Originated from the idea of creating a playground for exchange and friendship connection among businesses in Ho Chi Minh City, ALB & Partners Law Firm and 15 other companies attended the friendly football tournament named "Cup Khu Dong Mo Rong 2019", organized by An Khai Hung Investment Joint Stock Company.
With the message "TOGETHER WE WIN, TOGETHER WE SHARE", the expected revenue from the tournament will be used to support the Fund devoted to sick children in need, which was founded by the Nguyen Uoc Hong Charity Club, whose mission is to give joy and hope to these miserable little Angels.
This friendly tournament, "Cup Khu Dong Mo Rong 2019" was divided into 04 groups, playing around to choose the best teams for the next rounds. With the right tactics and strong team spirit, the players of ALB & Partners Law Firm spectacularly came to final match and won the championship.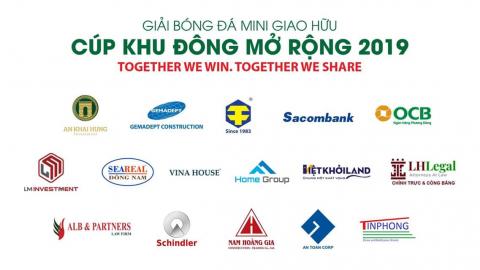 Upon giving a talk in the final Gala night on August 25th, 2019, Mr. Ngo Trong Hieu – CEO of ALB & Partners Law Firm expressed his sincere thanks to the organizers and the other teams attending the tournament. All the prizes including the Champion's and personal ones were donated to the Nguyen Uoc Hong Club.

Following this meaningful tournament, ALB & Partners Law Firm has established good connections with participating businesses who are representatives of banks, real estate, construction, and logistics companies,… especially together experienced great moments during that time.